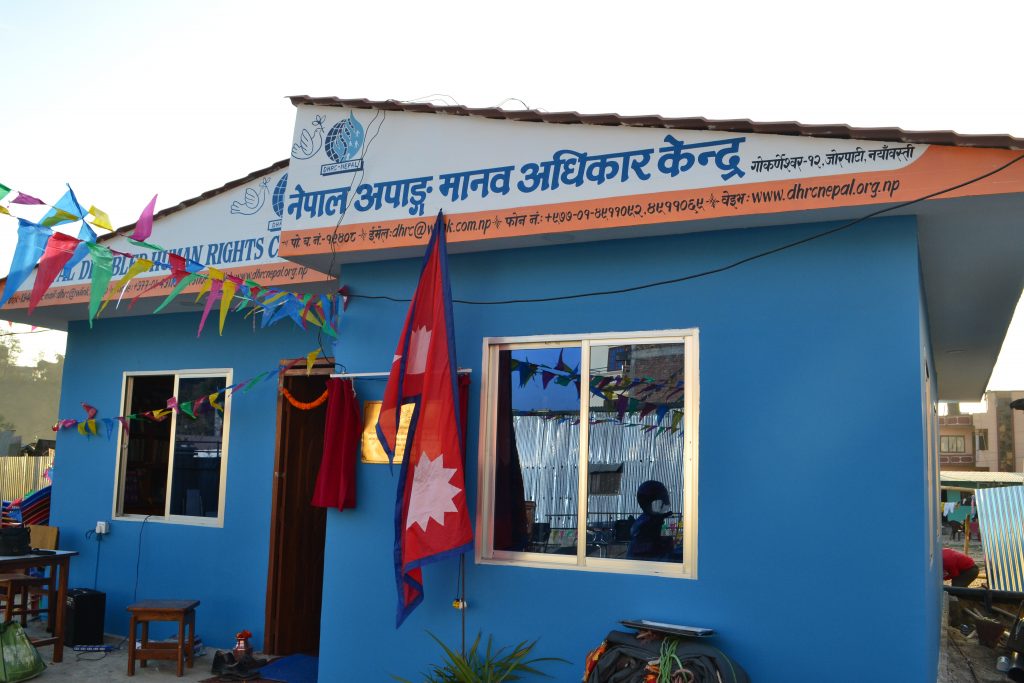 In Nepal 1.94% of total population has some kind of disability. Most of them have low socio-economic status. The community of People with Disabilities (PWDs) has still been marginalized due to the lack of awareness and so provoked cooperative thoughts of society towards them. It has been a long time; some human rights activists from disability group have begun disability movement for the promotion and protection of human rights of PWDs but the government is still lagging to respond their demands properly. However, the government ratified UNCRPD to make a promise for the implementation of existing policies, rules and acts regarding human rights of PWDs and creating a disability friendly socio-cultural environment for all PWDs. The foundation of Disabled Human Rights Centre (DHRC-Nepal) is for the cooperation with the government to implement all disabled human rights related policies and acts. So, DHRC-Nepal is devoted to create a developed and inclusive nation for all who are still facing prejudice of being equal to enjoy their rights.
The organization is established in 2000 AD by a group of young people from different corners realizing the real situation of PWDs in Nepal. They themselves are having some kinds of disability due to which they suffered in the context of obtaining education, employment opportunities. Since its beginning, DHRC has been persistently doing hard work to create an equal opportunity to all PWDs on the basis of all citizens without disability. DHRC-Nepal has accomplished various activities to make PWDs aware on human rights and the government to realize their responsibility to provide PWDs with their rights. So, DHRC-Nepal has became a catalyst between PWDs and the government for providing legally allocated rights to PWDs and passing the voice of grassroots to the government through advocacy and law.
Now, it can be proudly said that the devotion of DHRC-Nepal in the field of disability has made a notable achievement. The Supreme Court Verdicts on Free Education, 2060 and Sustenance Allowance with Attendant Charge to the severely and intellectually disabled people, 2069 are the examples of the major achievements which can be taken as a milestone for promotion of Public Interest Litigation (PIL) in disability rights sector.
To meet the mission, DHRC-Nepal always follows the culture of cooperation, coordination and collaboration with the government, different agencies, DPOs, I/NGOs, local institutions and individuals as well.
Vision
An inclusive society where a disabled person can live a dignified life and possess secured rights
Mission Statement 
To play a role in establishing the rights of disabled people to live an empowered and respected life

To play a role in the call for equal participation after ensuring the human rights of disabled people

To encourage organised development by training disabled people to play a leadership role in good governance and securing rights.
Objectives
To make people aware of the importance of preventing disability,

To inform People with Disabilities (PWDs) of their Human Rights and to ensure that society respects these Rights

To raise the voice of disability at National and International levels

To raise public awareness nationally through the media on the injustice of societies' attitude to disability

To undertake well constructed research and use the findings in study programs and as an information source

To network with relevant organizations to bring disabled people into main stream society

To increase pressure on policy makers to implement existing policies and to introduce more radical policies